Drupal 10 is out: what's new and why it's best to start migrating now
In time for the New Year, the Drupal team has put version 10 under the tree with new technologies and nice changes in speed and security. In this short article we'll take a look at the list of innovations and see what they'll bring us and why it's a good idea to upgrade to the latest version now.
What has changed in the new version of Drupal
Drupal 10 was released on December 14, 2022, the latest version of the currently open-source CMF (or CMS, many still argue), the fruit of the efforts of thousands of developers.
List of updates in Drupal 10
The Olivero interface. Olivero will replace the Bartik design theme, which was installed by default on versions 7, 8 and 9. The outdated interface gave a false impression of Drupal's capabilities.
A smoother, sleeker and more modern interface. Its main advantage is compliance with WCAG, the web content accessibility guidelines for people with disabilities. Creating new projects on Drupal is now even easier.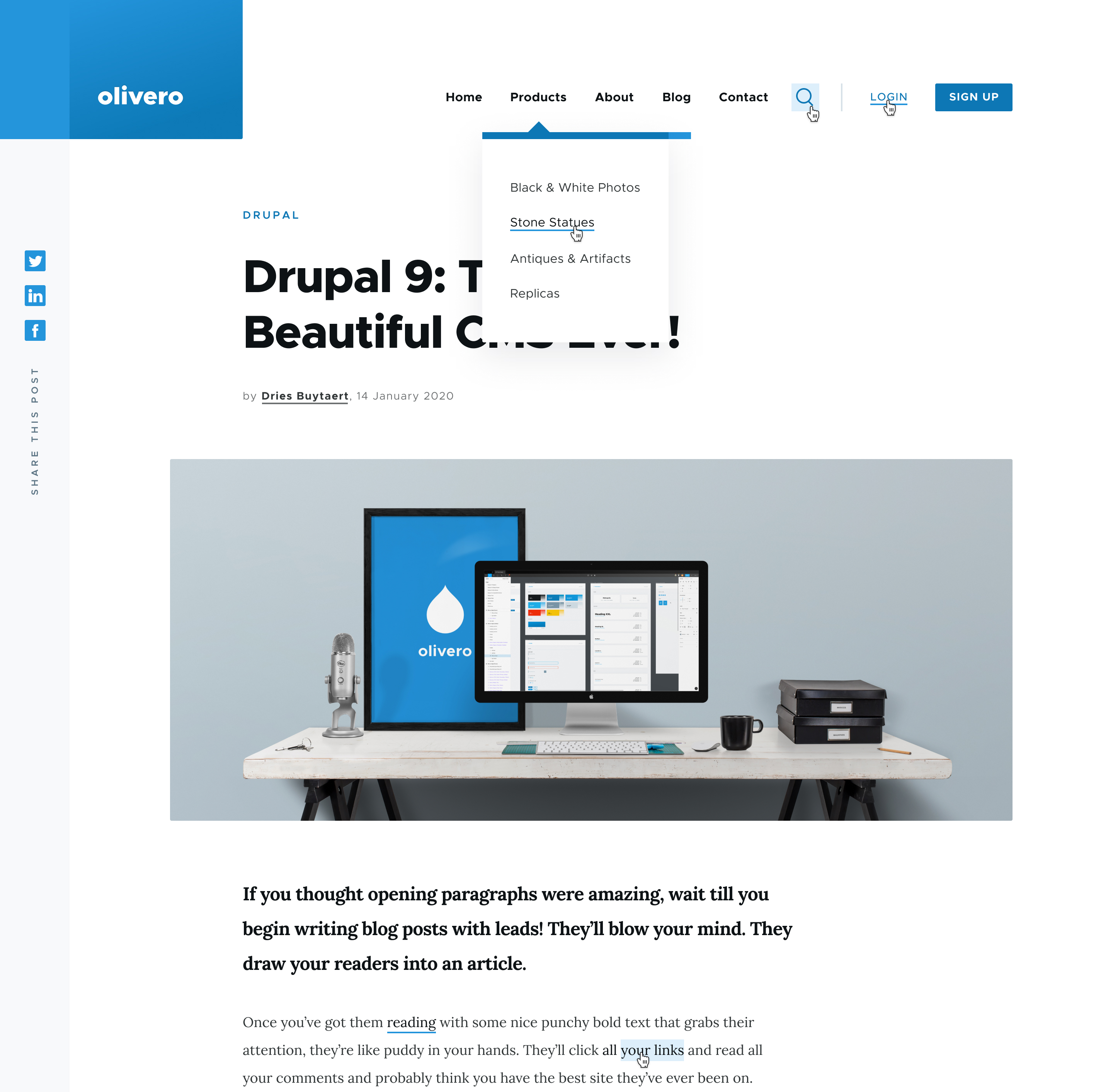 Backend by Claro. It also replaces the outdated Seven theme. Improved usability for content handling: admin tabs moved based on user experience studies for better accessibility, improved editing from mobile devices. Any such improvements potentially speed up the site experience for moderators and content managers.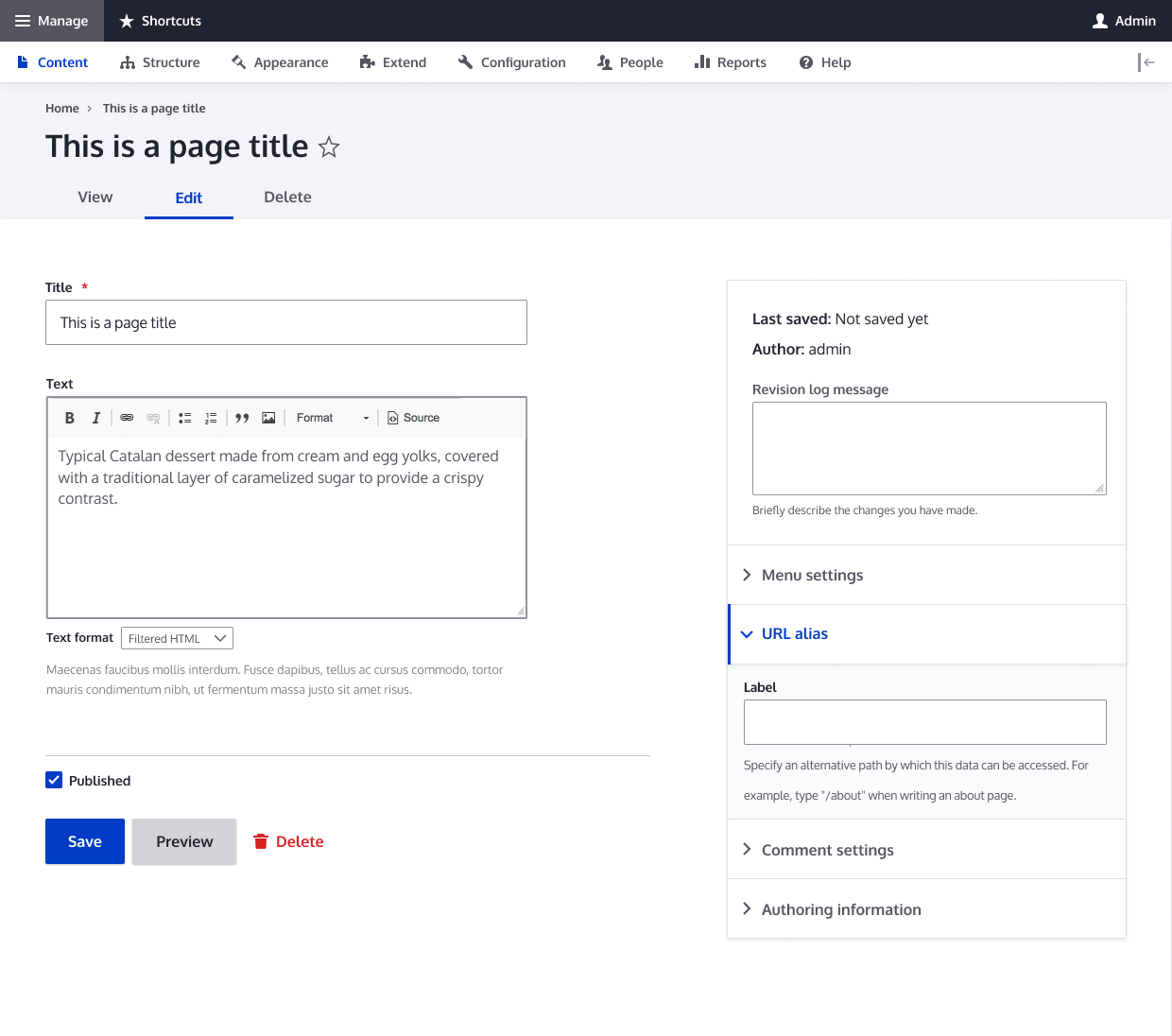 CKEditor 5. The service of CKEditor 4 expires in 2023. This word processing module served for more than 10 years and will now be replaced by a more modern successor. Moreover, the fifth version is now included in the core of Drupal 10 and does not require a separate installation.
Content managers will be pleased with the updates: links and images can be edited without additional windows, and CKEditor 5 will remove markup from Google Docs and Word when inserting texts from those programs.
Modern JavaScript components to replace some applications of jQuery. Drupal used to have a large jQuery library built in, which dealt with the implementation of functions not supported in browsers. Thanks to advances in JavaScript technology, the capabilities of browsers are growing - they can do some of what used to lie in jQuery. Now part of this library can be dispensed with, which will speed up the loading of the site and its operation.
The Starterkit theme generator. Creating new websites is now even easier. Now you can build a theme based on the base version without fear of problems with updates. After creating a theme with Starterkit, you can monitor changes in the theme to incorporate improvements and bug fixes. This will help the site remain more stable.
Symfony 6 replaces Symfony 4 and PHP 8.1. Symfony 6 has improved performance and security - bug fixes and vulnerability fixes. The new PHP 8.1 version is faster and will remain secure for longer.
All of these updates will help simplify support, increase site performance, and improve interaction with the platform for developers and non-technical users alike.
Important box for those with a Drupal 7 website
It would seem why an iPhone 5 owner would need the latest model. This one works, makes calls and goes online. Without getting into design details and unnecessary features, we're stumped for better performance, better iron and other nice features.
The same can be said for Drupal 7, the most popular version with code from ten years ago. In 2023 support for this version of Drupal will cease, you need to get out of it as soon as possible. To return to the iPhone analogy just imagine you can no longer update apps on it or your data is much easier to steal from it than from a new model that is being maintained and improved.
If you don't think much has changed, it's important to realise that the comparison is with versions 8 and 9, which are slightly easier to upgrade from, and the changes are not as dramatic. But there's a real chasm between Drupal 7 and Drupal 10 in 10 years. Here's a small list of what else you can get if you make the "jump" from 7 to 10:
speed of opening pages will increase due to dynamic caching (only the cache of modified blocks and pages is reset, not the whole site;
less developer time (money) will be spent on transferring dev/pro configurations. Configuration support will allow all changes to site settings to be tracked in the GIT version control system;
FaceBook Big Pipe technology will become available, allowing visitors to see content faster: you can set up delayed block loads (such as ads) in a single request to the web server;
the possibility of realising multilingualism and accessibility of content for people with disabilities will be facilitated;
support for the new webp image format will become available to speed up image uploading and promotion in search engines;
integration with other content import/export systems will be enhanced through built-in migrations and web services. For example, partners can be given access to automatically update content on the site, or articles can be imported in bulk, site content can be fed into a mobile app or onto partner sites;
an off-the-shelf module for creating a PWA mobile application will be added;
there will be more ready-made integration modules, e.g. Unisender mailing list, Bitrix 24 CRM, Google AMP (Yandex.Turbo analogue);
Modern semantic layout, Schema.org, Microformats.org, Open Graph, JSON-LD markup will be supported to deliver information to search engines and increase conversions from search engines;
support for embedded videos and integration with YouTube, Vimeo will be added;
it will be possible to implement full-text search with Russian morphology support through Apache Solr integration.
What will happen to older versions of Drupal?
We'll still support earlier versions of Drupal. But you should be aware that most new features, updates and improvements will not be available on versions that are no longer supported.
If you care about the security and stability of your website, it is best to think about relocating it now.
Why migrate to a new version of Drupal?
Migration can always be done in a good way. When a project develops for a long time, it accumulates technical debt, dead code and bugs, which you can get rid of by migrating to a new version. This load affects the quality of the site and makes maintenance more expensive - you have to do the same thing, fix it in one place while it breaks in another.
You can get rid of something that has accumulated over dozens of years of development and several generations of developers at different levels in one go. In addition to an upgrade, a redesign can also be carried out, which will be much easier and cheaper to implement when moving to an updated version of Drupal.
In the new year, give your project a new life: till January 31st, 2023, to celebrate migration to Drupal 10, Initlab offers a 30% discount on a migration audit. And if you decide to migrate your site to a new Drupal version by the end of January 2023, we'll also give you a discount on the migration work based on the results of your site audit.